Buoyed up by my 'success' with the CPU display, I decided to take on another project I'd been thinking about for some time: 8-bit pixel art cross-stitch. It's always struck me that cross-stitch is basically pixel art, except it was pretty much unaware of it. And there's some rather good, or at least nostalgic pixel art from the '80s and '90s that deserves resurrection. And cross-stitch can't be that hard, can it? I mean, it's all girly and everything.
So, I cross-stitched up the main characters from the ZX Spectrum classic Head Over Heels, and you can see the results thereof. I think it's turned out rather well! On the details side, I used 14 count white Aida material, with size 24 cross stitch needles. I used 3 strands of DMC stranded cotton, colours 310 (black), 996 (for cyan) and 307 (for yellow). The design was taken from a screenshot, with the image fed through www.myphotostitch.com to convert it into cross-stitch instructions.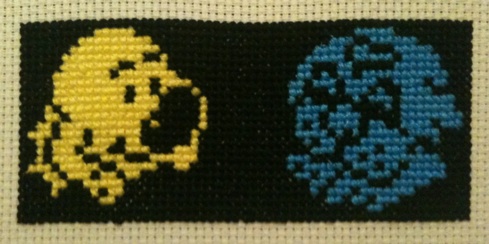 It turns out that cross-stitch is quite straightforward, but rather slow and tedious. I'm glad the image wasn't too large! I was originally considering making it double-size (4 squares per pixel), but decided not to as it was my first go. I'm very glad I didn't. I still have to mount the result, which will be a whole new pile of hassle, I'm sure.
After doing this work, I discovered spritestitch.com, which does lots of this kind of stuff. I didn't sign up. I mean, they've all got to be weirdos, right? ;)
Posted 2012-09-30.